Leo Nickerson School has an effective behaviour improvement incentive program, True Colours, which encourages integrity, acceptance and good citizenship through positive recognition. As students are observed by staff demonstrating good behaviour, represented by the colours of the rainbow, they receive positive affirmation for their good behaviour from office staff and other teachers as they submit their ballots. Draws are done daily on the morning announcements for small prizes and at our monthly assemblies to join the principal and assistant principal for a pizza lunch! The rainbow symbol is used throughout the school to reinforce the qualities this program engenders in the students: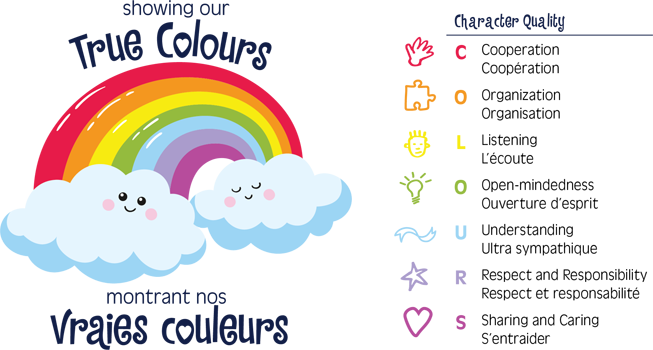 This incentive program theme is also reflected in the school song which students sing at every assembly.
Helping in our Community
We believe in serving our community by giving back to those who need it most. Working as a team, supporting worthy causes and making a difference in the lives of others give us greater insight into ourselves and develop a greater appreciation for the things we have.

We take the lead from our students in choosing service projects that serve the community and support causes of social justice. We believe this enhances learning beyond the classroom and empowers our students in making their community a better place, for all.

Students school wide participate in such events as Hair Massacure, Cake Walk and food bank collections.
The Roots of Empathy Program
This is a program for elementary school children that reduces aggression and fosters the development of empathy.
Program Goals
to foster the development of empathy
to develop emotional literacy
to prepare students for responsible/responsive parenting
to reduce levels of bullying, aggression and violence
to increase knowledge of human development, learning and infant safety
Program Elements
a certified Roots of Empathy instructor facilitates 27 classroom sessions during the school year, nine of which include a neighbourhood infant and parent
the instructor coaches the students to observe baby development
each baby visit is designed to capitalize on the shared observations of the baby which serve as springboards to teach emotional knowledge and perspective taking
the instructor delivers a specialized, age-appropriate curriculum including topics such as emotional literacy, anti-bullying, infant safety, violence prevention, participatory democracy, temperament and infant development