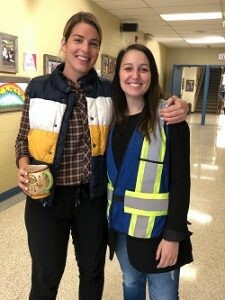 At Leo Nickerson we have an ecology of child-centred learning. We realize that we can't be focused solely on learning without shaping the environment that fosters it!
The staff at Leo Nickerson School believe everyone deserves the opportunity to be a leader. We define leadership as a person's ability to take responsibility for their life, to work with others effectively and to do the right thing even when nobody's looking.
Grounded in the philosophy of Stephen R. Covey and in the research of the Developmental Assets, Leo Nickerson School builds leaders, one asset at a time!
Our approach empowers teachers to actively seek out the talents and abilities of each child then find ways to unveil, mold and expand on them. Whether self identified or recognized by an adult in the school, students have the opportunity to develop their personal leadership abilities through:
This group of leaders uses technology and their media skills to bring important news to our students every morning.
By supporting the library technician, these leaders keep our library organized and welcoming.
Welcoming guests to our school with a firm handshake and a smile allows these leaders to be ambassadors of Leo Nickerson School.
Opportunities to assist office staff empowers these leaders to be professional and to communicate effectively.
Supporting younger students with their learning is a focus and a passion for these young leaders!
Students are trained in problem solving and conflict resolution skills so they can help younger children on the playground.
These leaders seek opportunities to support local and global initiatives. By creating awareness and hosting various fundraising activities, our leaders look to improve the world around them.