The Alberta Foundation for the Arts funds the Artist in Residence Program, an initiative that brings artists into Alberta schools to enrich school programs and achieve curricular goals. The collaborative nature of this program brings experienced artists into school environments to share their artistic passion, skills, knowledge and creativity with students and teachers.
Kinder Drama is a unique blend of literacy development, music and group drama that teaches cooperation and control of the body, voice and mind. Our Kindergarten students experience how to explore and express their imaginations while learning about our world through structured dramatic play and creative dramatics.
Students in Grades 4-6 experience a variety of dramatic forms such as: dramatic movement, mime, choral speech, storytelling, dramatization, puppetry, story theatre, play-making and group drama. Drama helps students learn to work well in groups, by considering and developing the ideas of others, through collaborative and creative exploration. These experiences foster self-expression and confidence in our children.
Bringing Shakespeare to the stage, entertaining musicals, a glow-in-the-dark stickman performance, an environmental show and a student-written Christmas show which encompassed more than 70 actors, are just a few of the exciting projects our Grades 4-6 students have done so far! There is no limit to what our students can accomplish with teamwork, imagination and the support from their amazing drama specialist!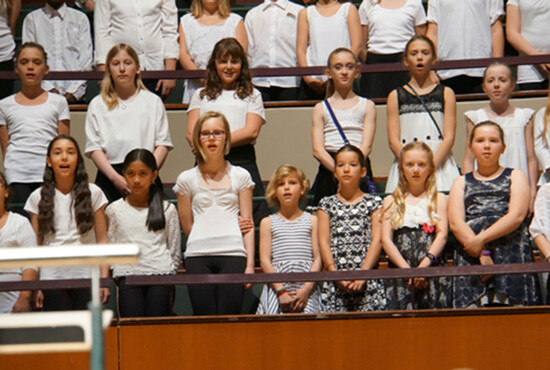 Students in Kindergarten to Grade 6 at Leo Nickerson work with music specialists who bring a vast amount of experiences and knowledge in musical performance, history and theory to their classes.
With expert instruction, our students build their musical skills and develop increasing confidence reading and writing music as well as singing and playing instruments. Kodaly and Orff approaches to musical instruction are provided at Leo Nickerson. Through these methods, the students are able to sing and accompany themselves and one another using simple chords and rhythms on Orff instruments and non-pitched percussion.
Choir, Recorder Club and Music Club are a few additional activities your child can enjoy while attending Leo Nickerson.
Take a walk through the halls of Leo Nickerson, and you will see how central the visual arts program is to the culture of the school. Whether it be our full-scale Arts Day in conjunction with Alberta Culture Days, our colourful Art Walk, or our inspirational Artist-in-Residence programs, it is clear that the visual arts programs are an important part of our school community.
Visual arts curriculum is woven throughout the curriculum from Kindergarten-Grade 2, and is frequently linked with children's literature, social studies and science curricular topics. Students experience painting, printmaking, sculpture and drawing skills in their home room classes.
In Grades 3-6, students venture up the stairs to our working art studio, where they are offered further opportunities to explore a multitude of visual arts skills. The building blocks from the earlier years are connected together, and expanded upon, as students begin to create a variety of multimedia projects. Students begin to work independently and collaboratively to create art using multiple skills and a variety of media. Works of the masters are woven throughout the Grade 3-6 visual arts program, and many of the lessons include a focused study of specific master artists, ranging from internationally renowned Leonardo da Vinci and Pablo Picasso, to Canadians Emily Carr and Maud Lewis. This integration of art history allows the students to make broader connections with history, geography and world cultures. Grade 3-6 students are offered multiple opportunities to participate in art exhibitions, contests and charitable events, which reminds our students the value of art within our broader community.